Thank you for visiting our Internet site. We are excited to have a website, although we still cannot work on your car via the web.....yet.

We will occasionally update this site, so check back for pictures and details of our services.

If you are not familiar with our company and your first contact with us is online: We would be pleased to hear from you! Please let us know what your needs and questions are, we will be more than happy to help.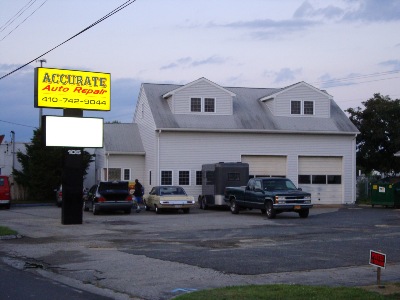 A Brief History of Accurate Auto Repair:

Accurate Auto Repair was created in 1987 by Dave Guy, a then 24-year-old ASE certified tech who was fed up with working for other people and decided to branch out on his own. With his toolbox, a loyal word-of-mouth customer list, and a lot of nerve, he opened the first Accurate Auto Repair on north business route 13 (next to the present-day Car Store) where it remained until the end of 1990. Beginning in 1991, the shop relocated to it's present location in Fruitland, where Dave went on to become an ASE Master Auto Tech. In 1994, Accurate Auto Repair was incorporated. In 2004 it became a family business when Dave married Toni and together they have watched it grow into an integral part of the community and Fruitland landscape. They have sponsored a Fruitland Little League team for years and love to hear kids say they play for Accurate Auto. The business today is still based on a slightly longer list of loyal word-of-mouth customers who have realized over the years that, at Accurate Auto Repair, the name really does say it all. We invite you to ask around your circle of family and friends for a recommendation of our service, and as always, we thank you for the trust you place in that service.